January-February 2017 | Volume 13 Number 1


Editor's Note
Already Lucky in 2017
I
t is with great pleasure to witness that you and we are still around to welcome 2017! Considering the alternative, and the surprising number of luminaries who passed this way in 2016, we are fortunate to be able to continue the struggle, so to speak, for an humanity deserving of the moniker.
We've got a great issue to start the New Year, including three new columns from three new and experienced voices in their respective fields: Henry A. Giroux (Commentary), Nancy Barno Reynolds (Education), and Matt Kennedy (Art). We're most grateful for their contributions, and after reading their articles, we believe you will appreciate their critical insights and thoughtful candor as much as we do.
Politics editor Jim Palombo remarks on the maybe-not-so-strange turn of events in the election of Donald Trump; in an extensive, must-read interview with world-wise poet-translator Marc Vincenz by Tom Bradley, Vincenz remarks: "On the surface, few believe that change can occur through rhetoric or wordplay and yet, a critical mass appears to be as easily swayable today as they were during the rise of the Communist parties of China or the Soviet Union or the National Socialist Party of Germany—or even more recent brain-scrubbers like Sun Myung Moon and L. Ron Hubbard. Public figures and media addicts somehow manage to float on even the flimsiest of logic. In the end it appears that it is emotion that sways a populace. How else could millions follow the obvious maniacal rants of a rug-headed, ineloquent narcissist whose family rechristened themselves after a deceptive playing card?"
Rock photographer Bob Minkin shares what it was like for a boy from Brooklyn to find himself behind the scenes with rock legends from The Grateful Dead to Jethro Tull to Bruce Springsteen and more. And why you can find him today as comfortable taking photos from the air as he was in front of the stage.
Haiming Chan (aka, Martin Chan), is featured twice here, once in an interview with Isabella Alexander, of "Fresh Off the Boat" fame, and a short story "Mid-Autumn Moon," a modern fable that turns naivete on its head.  Steve Poleskie recaps his start as a self-trained stunt pilot; Julieanna Blackwell puts herself in the mind of  a burn victim encountering her arsonist. Reflect on the poetry of Catherine Lucas and Carl Auerbach,  travel to Mexico with Jennifer Love, and contemplate the importance of preserving and protecting wildlife with Tim Walker's "Plover Honey."
Shortly after the November 8 election results were in, staff members were asked if they cared to share their thoughts in a combined column, which appears as "Another Gathering Storm: Comments on the Trump Era."  My thoughts on the Arts and how they evidence history are expressed in a short essay, "Harmony or Dissonance."
Finally, in the next few weeks we will be launching an Indiegogo campaign to raise funds for a "Ragazine Expansion Project." We've managed to continue growing thanks to the financial support of a number of dedicated donors, and the work of our contributors. We're at the point now, though, where the elephant has grown too large for us to juggle without bigger hands. So, stay tuned. We'll be sharing more information as we can, but it's never too soon to spread the word.
As always, thanks for reading. And all the best to you and yours in the New Year.
— Mike Foldes, Founder, Managing Editor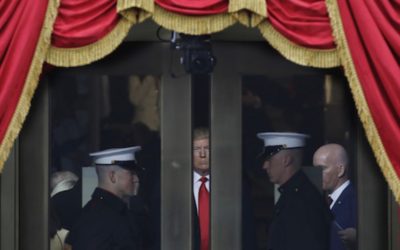 he goal of Trump propaganda on this is to engineer a public perception so that the perspectives of such groups are invisible to everyone else, their interests are not weighted. This is designed to assure the following: if the members of the excluded group are without property, they will remain so; if they are without political power, they will remain so as well. In other words, Trump's policies will favor those in his immediate orbit and those he perceives as relevant for re-election – everyone else will be excluded. At times, it appears as if Trump's conception of liberal democracy only extends…to whites.
read more