January-February 2018 | Volume 14 Number 1
Editor's Note
Throwing Art Out With The Trash
Two questions posed recently by articles in Ragazine's daily arts news feed prompted a mental knee-jerk reaction to at least one that challenges the current cloak of revenge captivating the hearts and minds of Americans responding to a wave of accusations against (mostly) men who over the years have taken unfair sexual advantage of girls, boys and women. By the power vested in them by age, fame and fortune, the accused are being brought to justice in courts of public opinion and rule of law, leaving open the answer to the question: What to do with the creative works of the discredited, of "the art of monstrous men"?
The question when applied to prison art, frequently as not, is that the creators not be allowed to profit from their work. In some cases, the work is not allowed to be publicly exhibited, in others, exhibitions of "prison art" draw large crowds to see "the other side" of convicts who may have killed, raped, maimed and otherwise destroyed the lives of countless victims and their families. Art may have a restorative effect on damaged souls, but that does not change history. Nor should the caliber of those works allow history to be forgotten.
Unfortunately (or perhaps fortunately), we are not privy to the personal lives of many of our literary and artistic heroes and heroines. Adolf Hitler's paintings notwithstanding. Would we tear down the Vatican if it were established that Michelangelo was a pedophile? Would we fill the caverns of Lascaux with cement if we found that the (assuming, now) men who painted the walls beat their wives, as is so often depicted in comics and cartoons (not funny)? Should we return all the lands of the Americas to the indigenous peoples who inhabited them prior to the European invasions of the 15th and 16th Centuries? Or burn the photographs of every photographer of beautiful nudes (male or female) that reflect human beauty in ways no other medium can provide, because the photographers too often crossed the lines that separate mutual consent and predatory behavior? Should we stop reading "Through the Looking Glass" to our children because its author may have been drawn abhorrently to young girls?
What is it, or what was it, that was so meaningful to us, that we put these people and their works in the forefront of discovery and rediscovery of the human condition, that brought us in many cases closer to God, that deepened our faith, or challenged it? That made us love one another less, or more; that clarified the complex chains of interaction that makes marriages work or fail, that recount events such as the Holocaust, or survivor accounts of atomic bomb explosions at Hiroshima and Nagasaki, that took us to Ethiopia, Sudan and Bangladesh to show us the results of man's inhumanity to man? Other than putting people in jail, or denying them the fruits of successful careers. Do we bury those gems in the dirt from which they were dug, or consider them for what they gave to us before their creators' dark sides were exposed?
There is no forgiveness for what some have done to others. Destroying their works will not accomplish much, if anything. Public shame, however, allowing predators to be exposed for who and what they are, is not a new beginning. It's the way the discredited have for centuries become outcasts by shaming, shunning, and more. It has, this time around, jump-started a contemporary movement that will change the face of American social and political life already being reflected in the art, music, film, literature and ethos of our times. The works of the unforgiven will soon enough be discarded as not worth the price, or taken for what they are – wheat from the chaff. Shall we allow the work to speak or stand for itself? See how clearly it is heard, how long it will last on its own, how long for its authors to become nameless?
The second "knee-jerk" came in response to an article discussing the rise and anticipated fall of art galleries signing on older artists at a rate previously reserved for "discovering" and signing-on young artists, in the hope — if not expectation — these emerging talents will be the geese that lay the golden eggs. But is the tide truly ebbing? I, for one, hope that's not the case. Too many older friends and acquaintances who have spent lifetimes making art are finding themselves in deplorable financial situations, unable to find galleries, unable to sell, not because their work is not deserving, but because they lack exposure, their buyers' tastes changed and they are looking for more diversity in their collections, or the buyers simply stop buying.
Art, of course, goes in and out of style; galleries take a chance putting up "dated" work, just as retailers cannot put last year's designs on their racks. But not everyone is an early adopter, and older artists' works that embody the spirit and culture of an earlier time often offer the intellectual, experiential and emotional content some art lovers seek. Exposure that can make or break a career early in life also provides older artists the platforms required to show whether they've not only still got their chops, but how much more they have to offer today than — or along with – the works they created yesterday. Here's hoping the tide doesn't turn.
This is a great issue of Ragazine filled with the work of both established and emerging talent. We like the mix. We trust you will, too.
Thanks for reading,
Mike Foldes
Founder, Managing Editor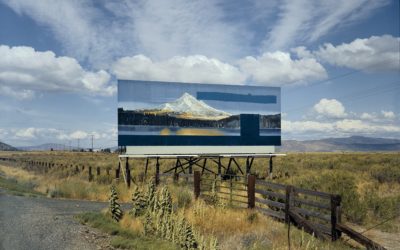 ©Stephen Shore South of Klamath Falls, U.S. 97, Oregon, July 21, 1973 ***  A Major Retrospective of Photographer Stephen Shore by Carl Oprey Contributing Art Editor o hear Stephen Shore talk about his...
read more