September-October 2018 | Volume 14 Number 5
Lineup: September-October
Karen Lethlean/An Ironman's Story
Barbara Rosenthal/A Crack in the Sidewalk
Michael Goldstein/Album Art
Fred Roberts/Visit to the Old Country, Music
Fred Roberts/Poland Playist
Maria Gillan/Poetry
Ben White/Ocean Ghosts
Steve Poleskie/Then & Now
William Crawford/Flash Photo
Jean-Paul Gavard-Perret/On Location, France
T.R. Hummer/Poetry
Sherrie Harvey/Bermuda Triangle
Lyn Lifshin/Poetry
Rich Ives/Nonfiction
Ewa Mazierska/Scarves of Candolim
Jim Feast/Book Review, Thad Rutkowski
Michael T. Young/Poetry
Jean E. Verthein/Fiction
Ed Coffey/Why I Run
Suchita Bhhatia/Filmmaker Frustrations
Tom Kay/"Holy Shit: Computer Oral Art"
Jose Rodeiro/"NoWall@All"
Jessica Noyes McEntee/"Can You Say Capitalism?"
Joe Giordano/"At the Cemetery"
Editor's Note
Media Whores
What gets me more than anything else about television these days is the way commercial stations, networks and media conglomerates punish the viewing public with unchecked lies and accusations that pour forth in practically every advertisement from either side of the political spectrum. I mean, this is the clearest example of what filthy lucre can do to a wobbly republic, and it's just not suitable for organizations calling themselves objective and unbiased to allow of others, let alone themselves. If reporters were to fact-check spurious allegations that appear in advertisements the way they supposedly investigate and fact-check stories they broadcast, there would certainly be a decline in the much-anticipated revenue streams that accompany, if not promote, election frenzy. But at least the common woman and man over 18, the voter, would be armed with a semblance of Real Knowledge to take with them to the polls.
What to do about it? In the face of the hundreds of millions of dollars streaming into the corporate media coffers, that's going to be a hard one to sell — unless the government steps in to regulate an industry – and a nation — that seems to thrive on episodic untruth. Corporations ("persons" in the eyes of the law) are highly unlikely to self-regulate without public outcry and an assist from taxpayer-sponsored public-service announcements, such as led to a decrease in smoking, use of seat belts, and other steps toward a more sane and healthy America. (So much for Net Neutrality, but that's another enema enigma.)
Critics will charge the government has no right to step in, to limit the right to free speech, but that's hogwash. The same argument was used when laws were passed to cut down on highway deaths by forcing automobile manufacturers to include seat belts in cars, to enact laws restricting use of handheld electronic devices while driving, to restrict smoking on airplanes (yes, remember those days?), or to disallow hate speech. There's no reason in the world not to explore ways to help ensure that the crap being fed the American Public becomes a critical thinking person's delight, and not a continuing diet of prevarication to fatten up the misguided who believe anything they see and hear on their scream screens.
If the Media Whores won't get off EasyStreet on their own and start demanding of advertisers that what they put up is a fair and honest recapitulation of Fact, we the people need to do something about it. The vicious and misleading political ads being peddled as Truth are indeed what our liar-in-chief calls Fake News, while the real news gets swept under the carpet of boredom as viewers hear in their brains the silent scream of "Enough! Enough!", mentally and intellectually shutting down before falling asleep with nightmares of squabbling adolescents populating their dreams.
We've been punished long enough. Now, to do something about it. "Like what?", you ask? Perhaps by contacting local politicians and broadcast news organizations; ask them to forego the quick buck in favor of helping to restore the dignity and regain the honor that goes with Good Government, to kill the cancer eating away at the core values of our Republic (including the inherent value of a free press) in a most laughable and globally embarrassing way. It's making cynics of too many.
Thanks for reading, and for spreading the word.
Mike Foldes, Founder/Managing Editor
See you next time.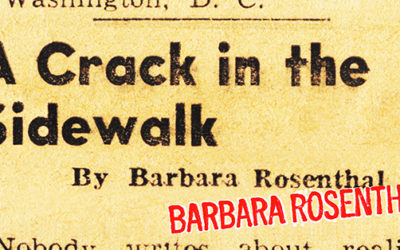 Commissioning an actual Work of Art, however, is a corrupt and oxymoronic notion altogether because a commissioned idea doesn't originate with the artist. Artists must resist all outside demands for a new creation. Artists should resist offering patrons work anything other than those they previously generated their own ideas for and which is already in inventory or fully or nearly complete. No exhibitions should be scheduled for nonexistent work.
read more