ABC/Eric McCandless
FRESH OFF THE BOAT – Episode: "Keep 'Em Separated". Hudson Yang and Isabella Alexander.
---
***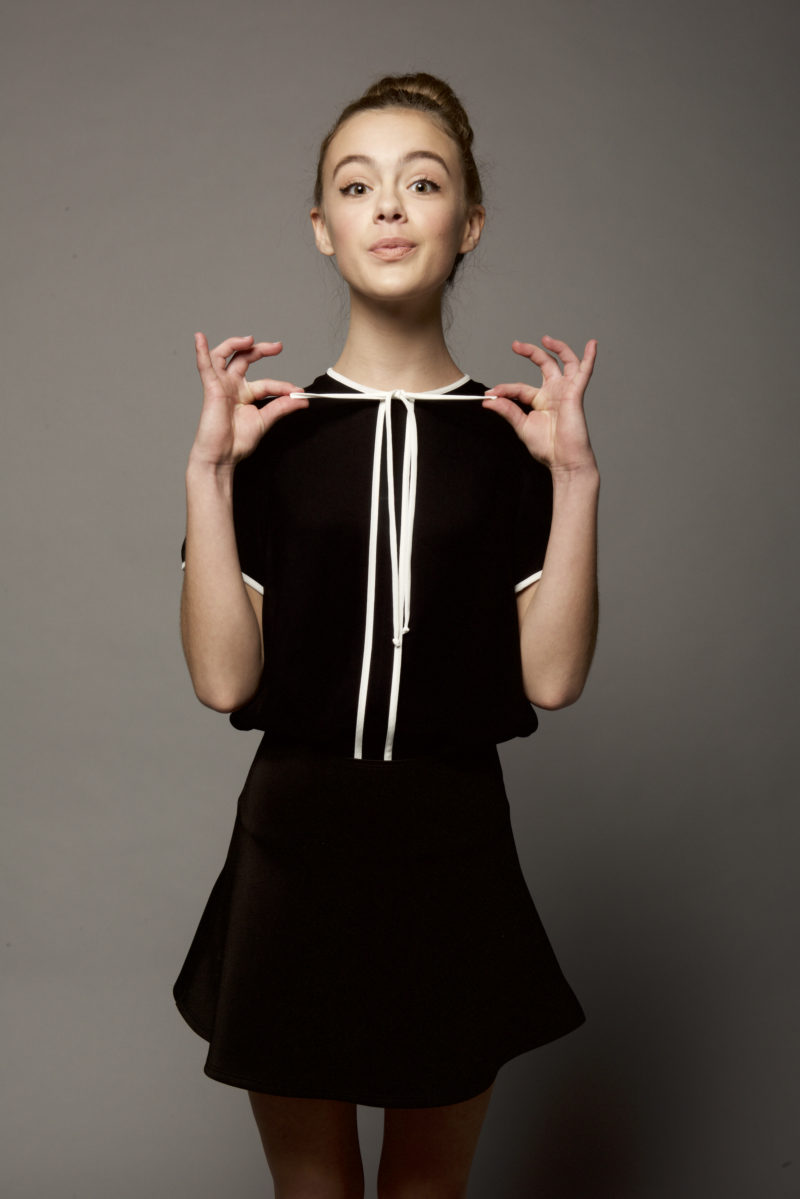 Isabella Alexander
---
***
A Girl Who's Not So Fresh Off the Boat
With Martin Chan
Ragazine: What are the projects that you are currently working on?
Isabella Alexander: I have recently been working on ''Fresh Off The Boat'' for season 3 and, of course, several under-development projects, but now I can't tell you more information about them.
Q) Please tell us what do you feel is your biggest achievement?
A) Well, I think that being a part of "Fresh Off The Boat'' is my biggest achievement. I love the show, and I am proud of myself joining the cast. I really enjoy it!
Q) Besides acting, what are you passionate about?
A) Besides acting, I am passionate about travel, though I haven't been to anyplace outside the U.S. I am passionate about Fashion, too. If getting a chance, I want to journey to Paris, the city of fashion and art. Paris is really great!
Q) What have you learned about yourself since you became a celebrity?
A) Seriously, I didn't see the difference after I became an actress. I am still a student, and I still hang out with my friends, having fun with them. Even though I became an actress, my life remains same as it used to be.
Q) If you weren't a teen actress, what would you be up to right now?
A) I probably would still be a dancer and a student with great enthusiasm for learning. And I probably would be a scientist when I grow up. I really love math and science.
Q) Who is your celebrity crush?
A) I love George Clooney. He is not just a successful actor but also a great humanitarian. He helps homeless people, refugees, those who are starving; he has influenced the world, making it better and making more people to devote themselves to charities.
Q) What did you do before being an actress?
A) I was just a student and a competitive dancer before turning myself to the Hollywood industry. And now I am still a student who goes to school every day when I'm not going to LA.
Q) Who is the most important person in your life?
A) Definitely My mother and my brother! Though they didn't actually influence me on my dream to become an actress, they have influenced me on my life, and my habits.
Q) Why did you decide to travel to Hollywood instead of moving to Hollywood?
A) Well, despite I love Los Angeles, I love my friends and my hometown (Putnam, West Virginia) more, and I want to keep myself grounded in this community, and to stay in touch with my family and my friends that I have had for all these years. I think it's important to have family, friends, normalcy.
Q: What other languages do you speak?
A: I have studied Spanish and French for a period of time, but I don't think that I'm fluent in those two languages. I can only speak a little French and Spanish.
Q) What would be a good theme song for your life?
A) Probably "I Live'' by One Direction!
Q: A lot of teen actresses have taken their big steps to become singers. Have you ever considered it (taking a big step to become a singer)?
A: I love singing, and I've found a good coach who is helping me make the most of my voice, but now I won't consider being a singer, since acting is really important to me and I couldn't just give it up!
Q: "What Kinds Of Novel Do you Like?
A: Well, I like books of mystery, thriller, suspense, but I also like stuffs like Harry Potter or Lord of the Rings.
Q: What kinds of music do you like?
A: I love all kinds of music, including R&B, Hip Hop, Classical…etc. I don't have any special taste of the music, and I always enjoy the world of music!
Q: How can your fans interact with you online? And what's your fan mail address?
A: Umm, I don't have a fan mail address, but if they want to have interactions with me, they can DM (direct message) me on Instagram at @IsabellaAlexander and on Twitter at @ItsIsabellaAlex. I love my fans and always want to hear from them.
Q: And finally, do you have anything to say to those who want to be actors or actresses?
A: Well, just keep working and I'm sure that you will find yourself a space in this industry. Best of Luck to those who want to be actors or actresses.
---
About the interviewer: 
Martin Chan is an international who dedicates to expressing his emotions and thoughts through pens and paper.  He loves American literature, though he's not a native American. Besides writing, he is an avid reader. He is working on his first novel, the first short-story collection, and  the first poetry collection (hopefully self-published). He has always regarded himself as a stranger in the literature circle, though he has a lot of work published in different journals (both online and print). And he regards Phillips Academy as his dream school. (You can read one of Martin's short stories in this issue: The Autumn Moon).