The Global Online Magazine of Arts, Information & Entertainment
March-April 2015 |Volume 11 Number 2
Welcome
"Remember when …"
How often do we meet an old friend and say, "Remember when …"? And how often do we hear, these days, of people who don't – or can't?
The Lenox Hill Neighborhood House in New York City is one place among many where those afflicted by dementia in any one of  its considerable forms have a chance to drill down into the well of lost memories to bring something back they may not recognize even while "remembering." The method employed is Art Therapy, and the maestro is Elizabeth Hartowicz, whose efforts to help those in need – including family members – keep a spark flickering in the lives of those for whom the flames are clearly being extinguished…
More
We think you should take a look…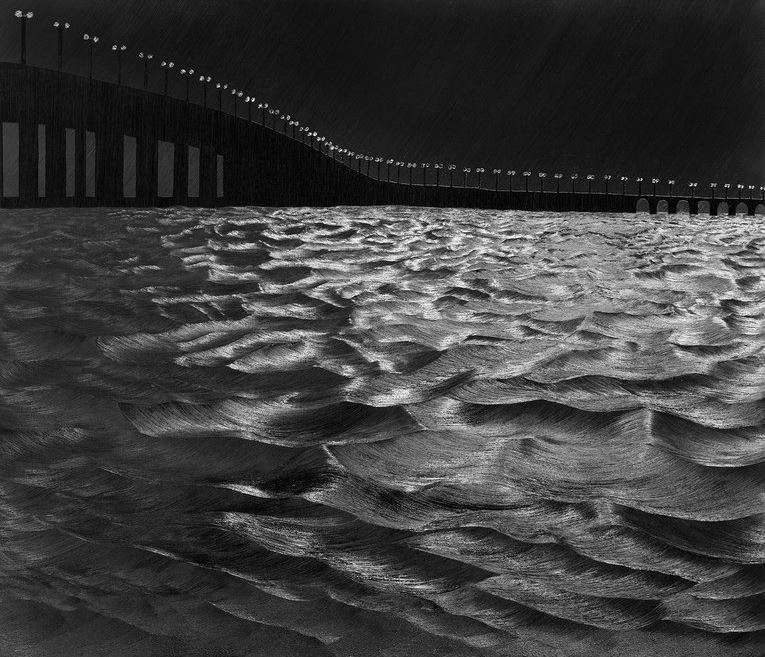 Bridge to the Kingdom | 2014  | Oil on linen | 52.5 x 61.5 in
From our calendar listing
Karen Gunderson Exhibition
In March 2015, Waterhouse & Dodd will be exhibiting recent works by Karen Gunderson.
Gunderson was born in Racine, Wisconsin. She earned her MA of Fine Arts from the University of Iowa and has since received many honors and awards, including a Lorenzo Magnifico Prize in Painting at the 2001 Florence Biennale, Italy. Significant solo exhibitions include: the Charles A. Wustum Art Museum, Wisconsin, 1985; Brattleborough Museum Art Center, 2002; Circulo de Bellas Artes, Madrid, 2004; Museum of Gdansk, 2009 and Bahrain National Museum, 2010. Her paintings were included in the ART in Embassies US program in Togo, West Africa 2000 and in Manama, Bahrain, 2010.
Beginning in the 1980s, Gunderson developed her own style and language of painting in which she applies black oil paint with innovative brush strokes. She uses five different hues of black and by scoring the surface to create impasto she manipulates the reflections of light to generate extraordinary effects – in her sea paintings, for example, the viewer experiences an illusion of movement in the waves and clouds as they walk around the canvas. One could accurately describe her medium as 'light on oil paint on canvas'.
March 3

 –

March 28, 

Waterhouse & Dodd, 47 Albemarle Street, London  W1S 4JW
See more about the exhibit here, also see her previous work in ragazine.cc and at her website.